This extension is providing you the possibilities to split or merge artifacts content. The artifact content must contain at least two paragraphs.
)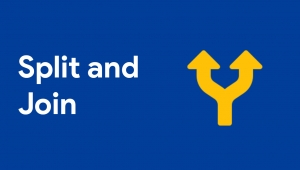 )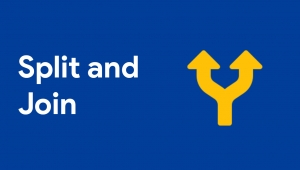 )
SPJ
)
Introduction
The Split and Join extension is a versatile tool designed to enhance the functionality of DOORS Next Generation (DNG) by allowing users to seamlessly manipulate artifacts within DNG modules. This extension serves a dual purpose, enabling users to split larger artifacts into smaller, more manageable pieces and, conversely, to join multiple artifacts together. This fundamental capability addresses the need for granular control over the structure and content of DNG modules, facilitating more efficient data management and organization.
Use Cases and Features
Based on the functionalities and use cases that this extension is helping you with, we kept the user interface as simple as possible. In the current version of the widget you can find:
Widget information section - section with version, short description and other informationss about the extension
Drop-down selection –a drop-down menu will appear if the artifact is split. In the drop-down menu, the user can choose whether he wants to split the artifact by paragraph, split by bullet list or split by number list
Render preview button – after pressing the button, a section was expanded in the widget, which contains a preview of how the artifact(s) will look after the action is performed
Main button – button that starts the widget after it is clicked
The primary problem this extension aims to solve for DOORS Next Generation users is the need for streamlined artifact manipulation. Often, users encounter situations where they must quickly join or split artifacts to maintain the integrity and organization of their data. This requirement becomes especially pronounced after importing data from external sources like Excel or Microsoft Word into DNG modules. When data is imported from Word, it often arrives as several artifacts that require consolidation or further division for efficient management and analysis.
The Split and Join widget has the following features:
Joining Artifacts: The extension provides a straightforward mechanism for joining multiple artifacts. This functionality is especially useful after importing data from Word or text documents, where artifacts may have been separated during the import process. Users can select the artifacts they want to merge, and the widget seamlessly combines them into a single, unified artifact.
Splitting Artifacts: When dealing with artifacts that contain multiple requirements or sentences, the widget facilitates their division into individual artifacts. This is essential for users who need to assign specific attributes or establish links for each requirement. The widget automates the process of splitting, saving users time and ensuring data accuracy.
Softacus has developed the "Split and Join" extension, enables users to split large artifacts into manageable pieces and merge multiple artifacts. This addresses the need for precise control over DNG module structure and content.
Preconditions and Restrictions
This script is designed to work exclusively within the module. If the user does not meet these prerequisites, the widget displays an informative message.
Users should be aware that the join function relies on the selection and order of artifacts. Incorrect selection or ordering may lead to unexpected results, highlighting the importance of careful artifact selection.
Softacus Services
We, in Softacus, are experts when it comes to consulting and service delivery of IBM software products and solutions in your business. We help our clients to improve visibility and transparency when licensing and managing commercial software, providing measurable value while increasing efficiency and accountability and we are providing services in different areas (see Softacus Services).
IBM ELM extensions developed by Softacus are free of charge for the customers who ordered IBM ELM licenses via Softacus or for the customers who ordered any of our services. If you are interested in any of our IBM ELM extensions, you found a bug or you have any enhancement request, please let us know at info@softacus.com.