Training based on version 6.0.6, 6.0.1 and 7.0, 7.0.2+
Type: Instructor-led Classroom
Duration: 2-3 days depending on the required depth of the covered topics
Location: On-line: World-wide, On-site (Europe)
Language: English, German, Croatian, Slovakia
Audience: This training course is suited for anyone who needs to understand how to plan, manage and execute test activities with IBM Engineering Test Manager including:
Test managers
Test Team leaders
Testers
Project managers
Quality managers
Business analysts and developers involved in testing activities

Prerequisites: Before taking this course, it is recommended to have a general understanding of testing concepts and terminology.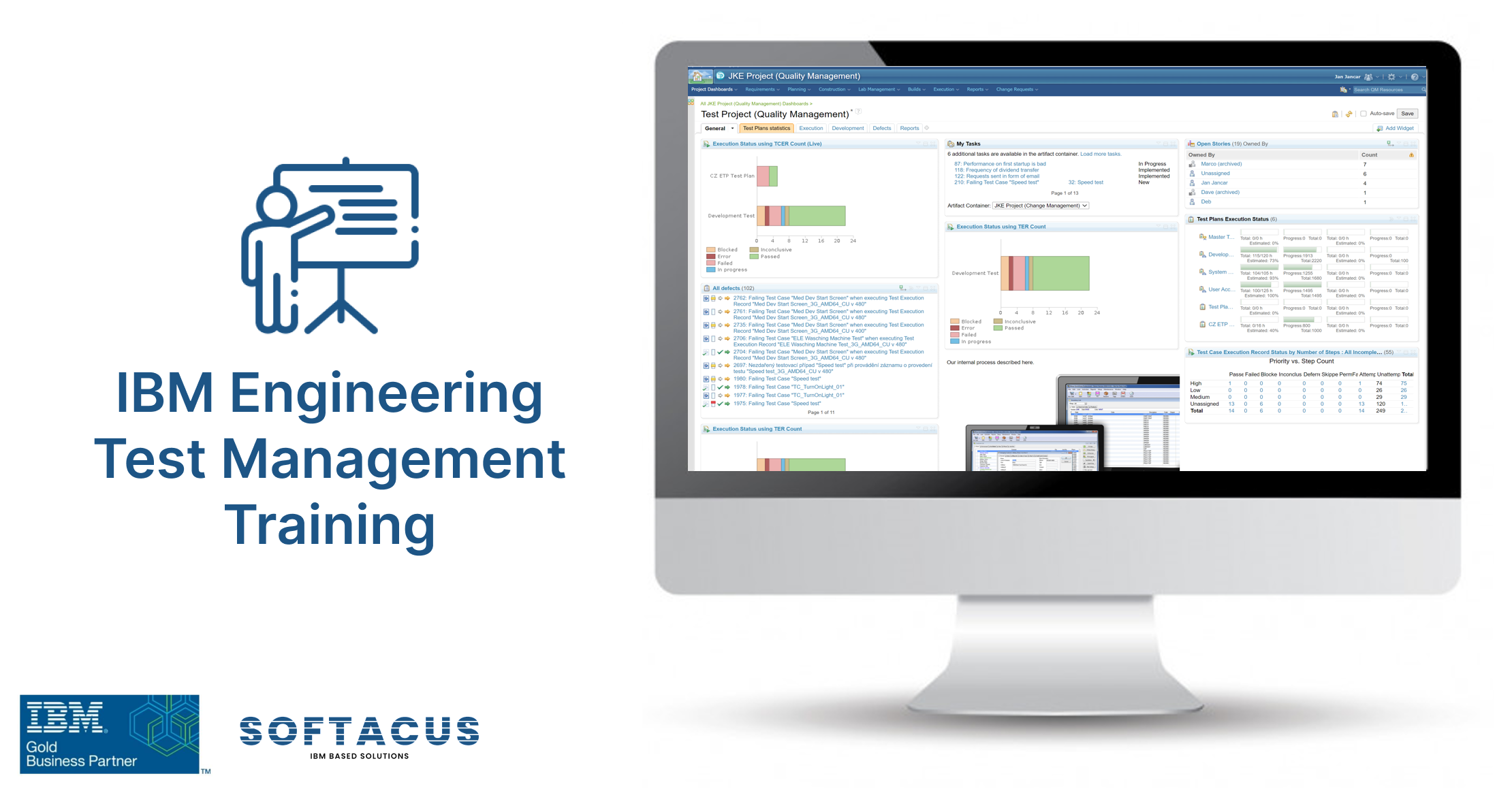 ETM Training Description
IBM Engineering Test Management (ETM) was formerly known as IBM Rational Quality Manager (RQM)
This training introduces the basics and also some advanced techniques of using IBM RQM to testing professionals.
The training course teaches how to plan the test effort, implement test plan, test cases, and test scripts, how to execute tests, and how to monitor results using IBM ETM.
This training also teaches you how to align with requirements and development, manage the test team's work, monitor progress, submit defects, monitor test results and monitor test status.
With hands-on exercises, you will learn, how to work quickly and effectively in the ETM and how to streamline the execution of manual tests and results in the praxis. Additionally, you will learn how to reuse test assets, and how to use data from external automation tools with your test scripts.
Objectives
Introduction to ETM - Key concepts and terminology
ETM and its place within the Jazz Platform
Planning the test effort
Developing and evaluation of the test plan
Understanding test plans and planned test execution
Finding and Managing assigned work
Creating traceability and links with requirements
Response to changing requirements and Test update
Understand and implement test plans
Creating test cases, test scripts and test suites
Implementing test cases and reuse
Creating test data and data-driven test script
Implementation of test scripts and reuse
Creating test case execution records
Executing test cases and recording results
Creation of Defects
Modification of test cases and scripts
Organizing workflows using test suites
Monitoring execution and results
Lab Resources and Test Environments
Organization of Workflows
Global configuration basic (snapshots, baselines, GCM)
Reporting
Price
Price depends on the number of days, delivery method (remote/on site) and on other factors. Please contact us via form or chat.
Related Trainings
Generating various Test Documents from ETM via ELO Publishing
Contact Us
We are looking forward to hear from you about your needs for stadard or custom training