Wednesday, 04 May 2022 12:16
Date: May 17 2022, 11:00 CEST
You are part of the LifeSciences and Healthcare Industry? You are developing new medical devices you want to know : How can you improve Quality ?

Give your team full transparency and enable them to make the right decisions at the right time. Create work products as a holistic, linked data set in a single view of truth and insure your devices safety.

How can you streamline Compliance ?
Create your work products with a system that foresees design control for every aspect and integrates compliance into the development process resulting in significant cost reduction. See how IBM ELM and Softacus face the challenges of IEC 62304 compliance.

How can you reduce time to innovation ?
Deliver innovative offerings to market in less time by leveraging design reuse, early validation with model-based engineering, and accelerated product delivery with agile engineering practices.

Discover how we meet these challenges with IBM Engineering Lifecycle Management and Softacus!

Register now to participate to our webinar the 17th of May 2022 at 11H.
Monday, 07 March 2022 13:54
Main Functionalities
Ability to migrate big amount of modules from DOORS to DNG
Possibility to transform the data according to specific user needs (split, merge modules)
Transformation of attributes
Transformation in GCM context; view to stream, split across components
Ability to migrate history and baselines
DOORS Tables
This extension has the ability to transform DOORS Tables into DNG HTML Tables or Artifact.
(Planned) Ability to transform OLE excel tables into DNG artifact HTML tables.
Migration of History data
Ability to save DOORS object history and import it into either an attribute or initial content of a "primary text" attribute.
Possibility to make a link back to original object in case of migration without the history (recommended option).
High Automation Level
The tool have API in order to create automation for:
Artifact creation and mapping
Attribute creation and mapping
Link Type creation
Project area & component creation
GCM creation
Creation of views, folders, streams and baselines
Create User in Jazz
Assign Group to the User
Conversions
Rich text into attributes
DXL Layouts into string attributes
Ability to convert attributes into embedded artifacts (i.e. for parametrization)
Transformations of pictures
Mapping
object view to component stream
attribute harmonization
maping of custom object types to artifact types
OLE Object Handling
Migration of OLE from attribute into primary text (merge) or as linked artifact (link to base artifact)
Ability to migrate pictures as embedded or standalone artifacts. Linking of embedded pictures to its artifacts (as base artifact link)
Notifications
Error handling prior and after the migration
Test Management
(Planned) Test on each object with proof that the artifact was migrated from DOORS to DNG properly
Technical Informations
Concurrent loading from DOORS to DNG
Usage of internal DB during Migration, which allows flexible linking after the migration of the data
Possibility to resume of the migration process in case of a disruption
Flexible for any customer use case
All migrations are different. We have built this solution, because the traditional ways of migrating were not sufficient for our and our customer needs.
This video show first release of the solution.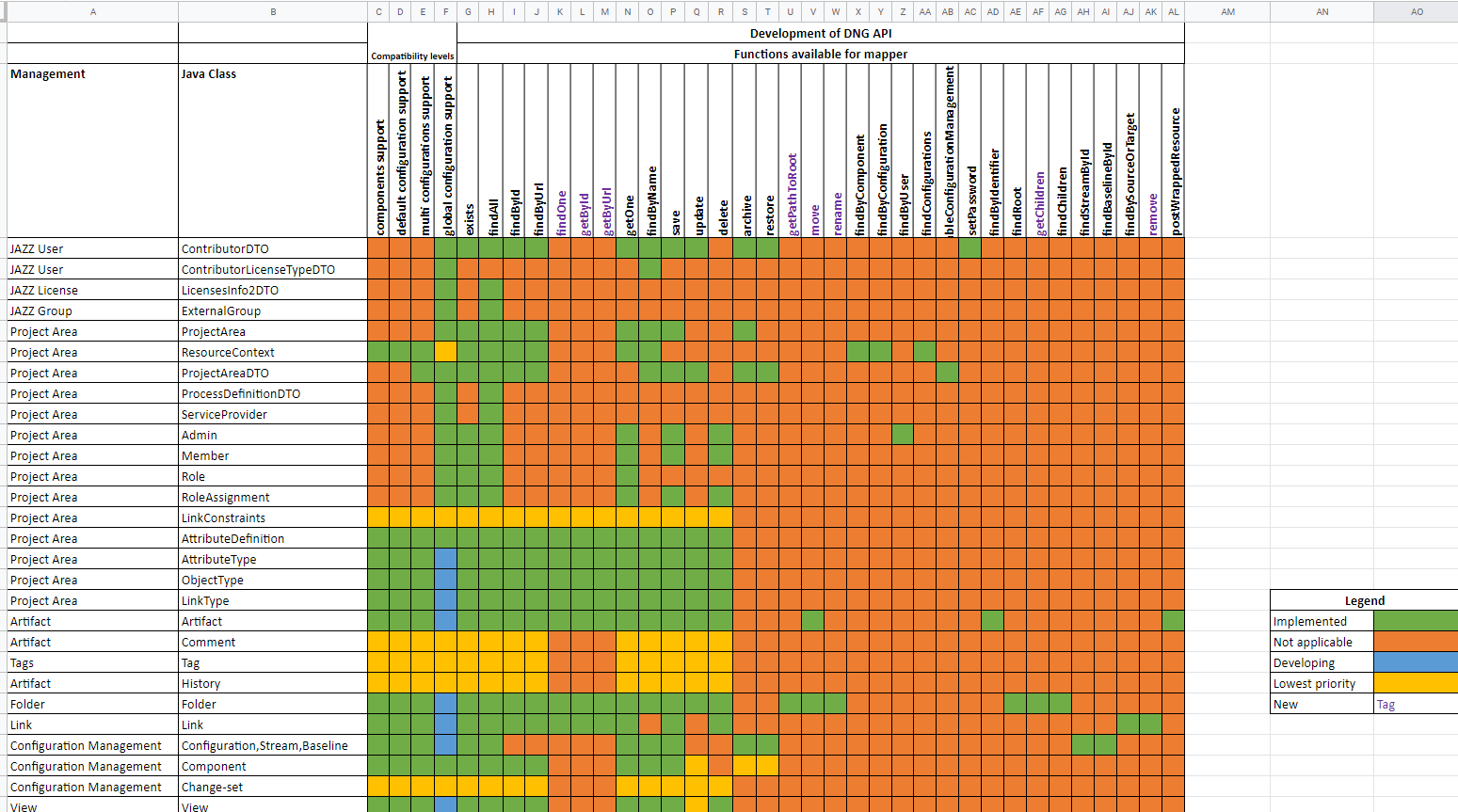 Development of specific APIs
The tool is able to to custom migration due to the fact that we have created our own APIs.
XXX
Monday, 07 March 2022 11:39
In order that DNG traces all the changes in artifacts, which could be seen in the "Artifacts History" page. Softacus developed an extension that allows users to filter this history directly in a module without need of opening history separately in new window or tab.
---
User Interface
As you can see on the left, UI of this extensions is containing filters. You can filter by:
Start Date - together with end date it specifies the date range of the changes that should be displayed
End Date - together with start date it specifies the date range of the changes that should be displayed
Users - you could choose from which user you want to show the changes
Changeset - indicates what type of change you want to see. Changeset filter contains the following options:

Insert
Update
Delete
Edit
Create
Import
Displaying the Changes
As mentioned, the widget is diplaying the changes directly in its UI, so there is no need to open additional tab or window (or just navigate to other pages).
After you click "Filter History" button, extension will fetch all the changes matching with your set of filters, and it will list them under each other as collapsible button for every artifact ID. Every collapsible button of artifact ID contains all the changes for specific artifact.
There are displayed all changes in following way:
Green - changes in the module
Red - changes in the artifact that was already deleted from the module
Black - artifact is still existing and contains changes
If you click on "Changeset" in the list of changes, you will be navigated directly to the Artifact History page of DNG.
Video:
Price
This add-on is free of charge for customers who purchased the IBM Jazz solution via Softacus.
Please contact us if you need a different arrangement.
Support and Modifications
Every functionality of any of Softacus Engineering Requirements Management DOORS Next extension can be customized based on your needs. If you are interested in having, enhancing or if you found a defect in extension, please contact us at: This email address is being protected from spambots. You need JavaScript enabled to view it.
Also, we are providing custom modifications for our customers. Every Softacus DNG Extension can be modified based on your needs or requirements. We are looking forward to developing a solution for you.
XXX